My Girls On Fire, •*´¨`*• An Angel dances with wolves.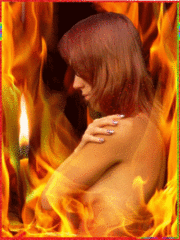 Girl on fire
This girl is on fire, her beauties ablaze,
A walking igniter of passion.
Her aroma arises, a sparkling haze,
A trend setter, setting the fashion.
A mother to my children, the world has been unkind,
If God's the great creator, how has he been so blind?
Such a wonderful woman, true to the heart,
So passionate, caring and good.
How to say thank you, where do I start?
At the beginning, if only I could.
To show your true colors, an endless task,
I'm there for you, whenever you ask.
For loyal friends are hard to find,
You should never let them go.
Fiona in words, you are loyalty defined.
I just had to let you know.
Your fire burns inside my heart,
A wonderful woman, a work of art.
Our friendship, our bond, forms ultimate strength,
We unite on our journey through life.
'Walking on fire', we could walk the full length,
For love cuts hate like butter and knife.
The smallest of flames can create uproar,
Forged together in friendship, forever, I'm sure.
This is a poem my friend tom wrote
I want to share it with you
He is an incredible young man with a talent that should be noticed
Around the globe, I have a another friend called Ben who is a fantastic artist
Both these young men should be given every chance to succeed
For they shown and given friendship with loyalty's above and beyond
There call of duty's thank-you to you both
It's time for me to enjoy every moment that my life has left
So bless the ones that liked and commented on my words
And understood the truth and all my amazing friends
Who have helped in my everyday life you all know who you are
Thank-you
Daniel angel from Cape Cornwall
An Angel dances with wolves.
What is an Angel but a soldier of God?
Who fights evil, injustice, corruption.
If "Majority Rules", they'll take on the odds.
Disruption, corruption, eruption!
It rolls of the tongue, give credit where due,
the power of words, yet spoke by so few.
Love, Honor, Dignity, costs nothing but pride,
makes Earth a more wonderful place.
The gready and jealous are the ones who should hide,
dis-honest and selfish, disgrace.
It's the Yin and Yang of evolution,
our actions interpret the next revolution.
Corruption is needed, don't be mis-understood,
in moderation, and not left to thrive.
As if there is no Bad, there can be no Good,
thus no Love, a planet deprived.
If fifty fifty, or a game of two halves,
then evil stop cheating, you're having a laugh.
The good are out  numbered, the whistles not blown,
The ref must be in on the books.
Step forward my Angels and make yourselves known,
It's hard to keep faith, after all that we've took.
I'm begging you now, the time it must be,
to right all the wrongs, restore dignity.
Some friends of mine, who are close to the heart,
suffered years and years of torment.
A fatal blow, means no second starts,
Please tell me more Angels are sent.
For Angels inspire, bring positive light,
To leave an Angel for the wolves…
It doesn't seem right.
        By  Tom Steel
tom83steele@hotmail.co.uk
Tweets by @AngelfromCape
!function(d,s,id){var js,fjs=d.getElementsByTagName(s)[0],p=/^http:/.test(d.location)?'http':'https';if(!d.getElementById(id)){js=d.createElement(s);js.id=id;js.src=p+"://platform.twitter.com/widgets.js";fjs.parentNode.insertBefore(js,fjs);}}(document,"script","twitter-wjs");